One of the advantages of doing business through digital means is the sheer amount of data you are able to harness to understand your customers better and ultimately bring in more leads. But as you may have noticed, data can be overwhelming, not least when you are trying to present your findings to clients, investors or even board members.
Far from being just a search engine, Google has a range of tools to help get to grips with your data. One such tool is the aptly named Google Data Studio. In essence, Google Data Studio allows you to present your data using a range of visualisation options. By connecting to a range of data sources including Google owned products and independent apps, you can create a professional looking presentation with ease.
In today's post we are going to give you a step by step guide on how to build your own Google Data Studio that's specifically geared towards ecommerce marketing.
Getting Started With Google Data Studio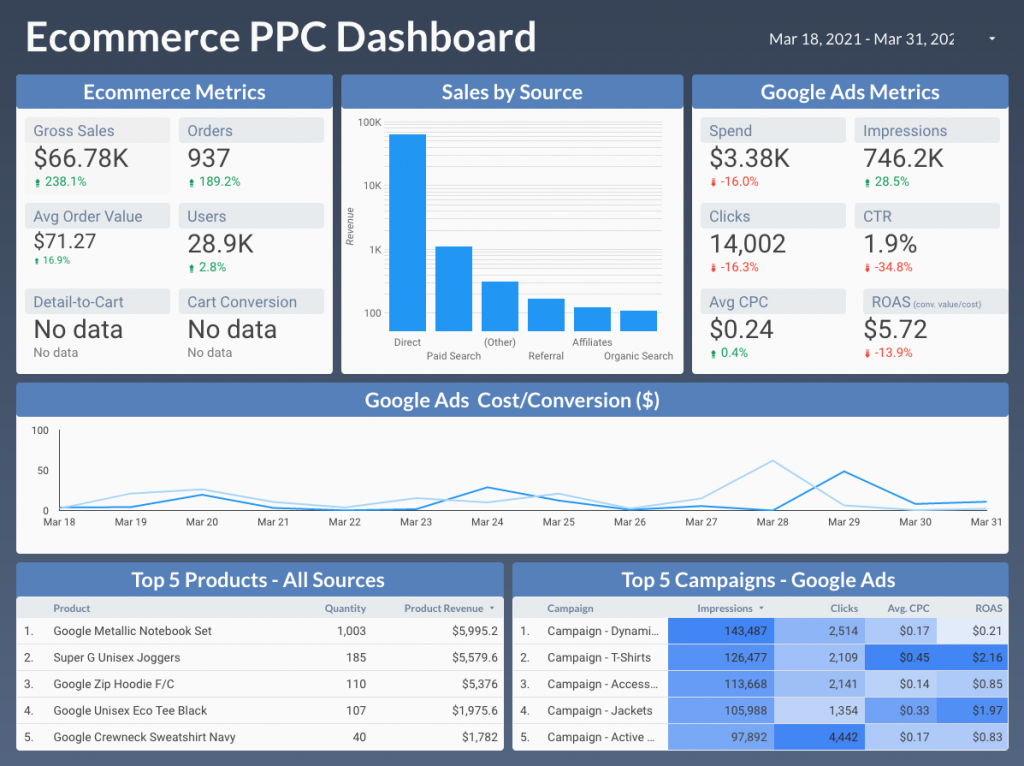 The good news is that Google Data Studio is a free tool, so all you need to do is open it up and connect your business to it. Once you're in, you can choose from a range of template types including 'ecommerce store'.
It's also possible to create a blank template from scratch which you can customise to your company branding style, and have greater flexibility with the elements you add.
Choosing A Data Source

The name of the game with ecommerce is sales. Data is one of your best assets where boosting sales is concerned, as it can let you know how your customers are finding your products, how you rank versus your competitors and whether your digital marketing efforts are paying off or not. Why Google Data Studio is the right tool for the job here, is because the platform centres around interpreting such data.
To create your report, you're going to need to choose a data source which you'll find under 'Google Connectors'. At the time of writing, this includes 18 Google based products, and 358 partner connectors you may well use for your ecommerce efforts such as Shopify, Facebook Ads and MailChimp.
Let's take a closer look at some of the Google based connectors in greater detail…
Google Search Console
Google Search Console is one of the best free resources for identifying keywords, in addition to learning more about your page impressions, click through rate and overall SERP position. All of this data combined is a great way to get under the bonnet of your SEO, so that you can better understand how your customers are finding your products.
Presenting Google Search Console data through Google Data Studio is a lot more tangible for clients. Instead of having to scroll through lots of different pages, everything is neatly displayed on one sheet in a way they can better understand.
Google Analytics
Google Analytics uncovers which acquisition channels brought users to your website. This includes direct URL entry, display ads, paid search, affiliates, organic search, referral and any other applicable means. It will also give you the total number of users, sessions, your average bounce rate and how long users spent on your page.
There's a lot you can determine about how well a website is performing from the above information, along with which marketing methods are paying off or not as the case may be. As an ecommerce website, it's going to let you know which channels are driving the most sales, along with any bumps in the road which may be preventing you from reaching success.
Google Ads
Google Ads has several template options available in addition to being able to custom build your own. However, the Google Ads Shopping Performance Dashboard is especially useful for ecommerce websites. It will tell you more about your website's performance trends such as which days where the most popular for sales, how many store visits you are receiving and ultimately what your conversions look like.
Utilising Your Google Data Studio Dashboard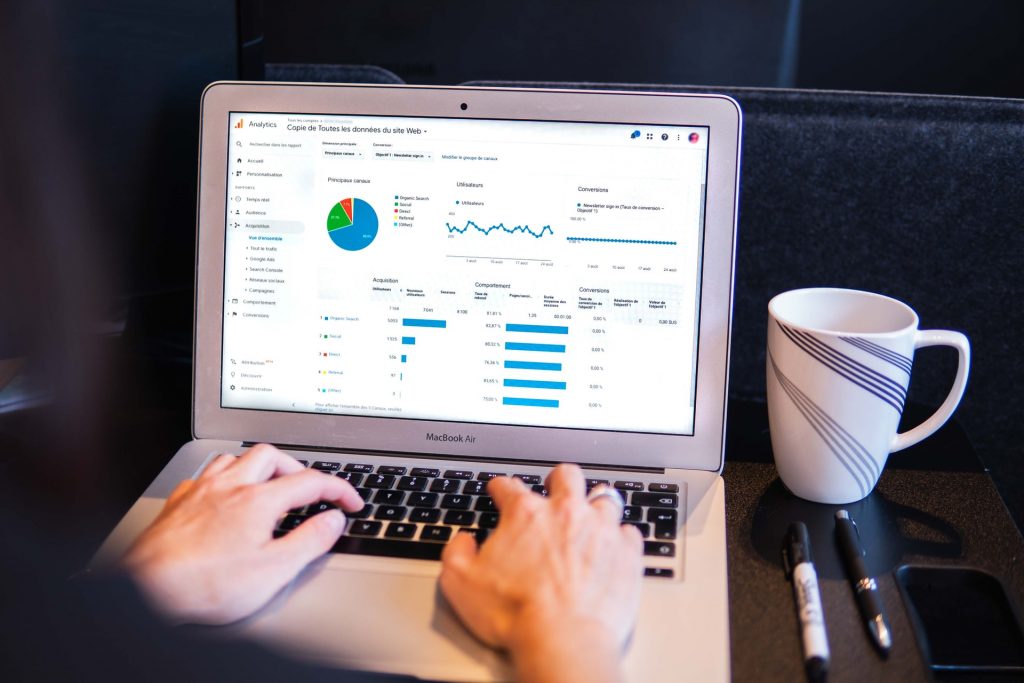 Once you've connected your chosen data sources and designed the report, it's going to give you a very clear overview of how your ecommerce store is performing across various aspects. This includes the following data:
Total sales
Conversion rates
Add to cart rate
Cart abandonment rate
Average order value
Customer lifetime value
Cost per acquisition
Bounce rate
Each of the above is incredibly valuable on its own when it comes to understanding more about your sales. For example, a high cart abandonment rate means customers are finding the products and adding them to their basket, but they aren't going through with the sale. Identifying the cause behind this such as a 404 error on the payment portal could be the reason for your slow sales.
The data will be presented through engaging charts, tables and other informative diagrams to paint a picture of your site's overall health. Regularly updating your Google Data Studio dashboard will help you track your progress to identify patterns that are going to lead to a stronger business model.
It will also help you when getting others on board with your brand, whether they be suppliers, clients or investors, because the data is not only accurate but easy to digest.
Create A Google Data Dashboard For Your Brand
There's a lot to get to grips with when it comes to using Google Data Studio. Even a comprehensive guide only scratches the surface because the platform has so much to offer. Therefore, if you require some further advice or if you are ready to get started with your own Google Data Studio reports, we're here to help.
Whether your business is ecommerce based or related to any other industry, get the experts in all things digital marketing on your side with us here at Imaginaire.
Building custom Google Data Studio dashboards is just one of the many services we provide for our clients, so you can get more leads to your business.
Book your free consultation and we'll get to work on devising a strategy tailored to your business. Or, drop us an email or call us on 0115 939 7572 to find out more.
You can even get a free website review from our specialists. Just head over to ourfree website review page to get started!